Support is always within reach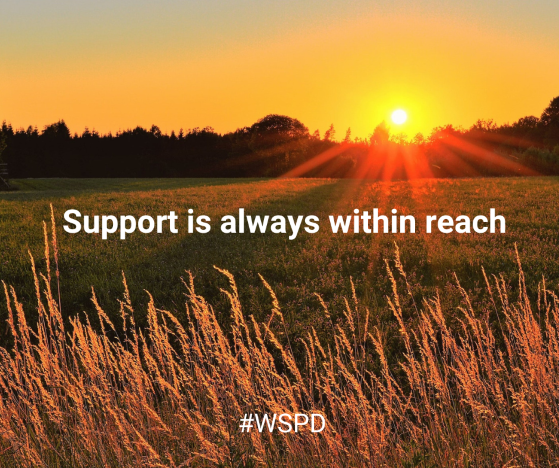 New mental health campaign is launched to support people in rural Dorset
Almost a quarter of Dorset's population live in rural areas and for those who are struggling, or facing mental health difficulties, that can sometimes feel isolating. Research indicates that suicide rates nationally are higher in rural communities, so Dorset's Suicide Prevention Group has launched a new campaign to remind people that wherever you are, and whatever you're facing, support is always within reach.
Simply talking to someone about what you're going through can make a huge difference. And however difficult it might seem, there is always someone to turn to.
Trevor Cligg is a farmer in West Dorset who has faced mental health difficulties: "A lot of people out there are struggling. Some withdraw and others, like myself, hide in plain sight. But talking about it is the biggest thing you can do to help – to whoever, be it your family, your friends, counsellors, doctors. Just talk about it."
If you don't feel comfortable talking to friends or family, you can speak to your GP or contact any of these free support services, which are on-hand to help 24/7:
Dorset's NHS mental health helpline Connection – call 0800 652 0190
Samaritans – call 116 123 or email jo@samaritans.org and someone will get back to you within 24 hours
Text 'SHOUT' to 85258 for confidential support via text message
Sophia Callaghan, Public Health Consultant at Public Health Dorset, is the co-chair of Dorset's Suicide Prevention Group: "Dorset has some wonderful rural communities but if you're having a tough time, it might feel like help is far away," she explains. "Our Suicide Prevention Group works in partnership to help those in crisis and signpost to the support that is available across our county – because wherever you are, you're never alone."
"Help is always available, whether it's through a friend or family member, your doctor, or simply a listening ear on a helpline. You can also contact Dorset's brilliant social prescribers through your GP surgery to access activities and support in your area. You might be surprised at what's happening nearby – there are wellbeing activities, friendly groups and drop-in services across Dorset."
Suzanne Green, Programme Lead for Mental Health at NHS Dorset, urged people to look out for others too: "It can be tough for people to admit they're struggling. If you're worried about someone, don't be afraid to ask how they are. And remember, we often say we're fine when we're not, so ask again if you're worried. Even if they don't want to open up then and there, they'll still know you're there for them.
"The Samaritans have some great advice on how to spot when someone is struggling, how to support others and how to listen at www.samaritans.org".
Find out more about the Within Reach campaign, as well as support and wellbeing activities in some of Dorset's rural communities, at www.lightonmh.uk/withinreach
As part of the campaign, Dorset's Suicide Prevention Group is offering free mental health awareness training in Broadwindsor and Gillingham. If you are interested in the training, please email phdcomms@dorsetcouncil.gov.uk