Tribute to mark 1000 Covid related deaths in Dorset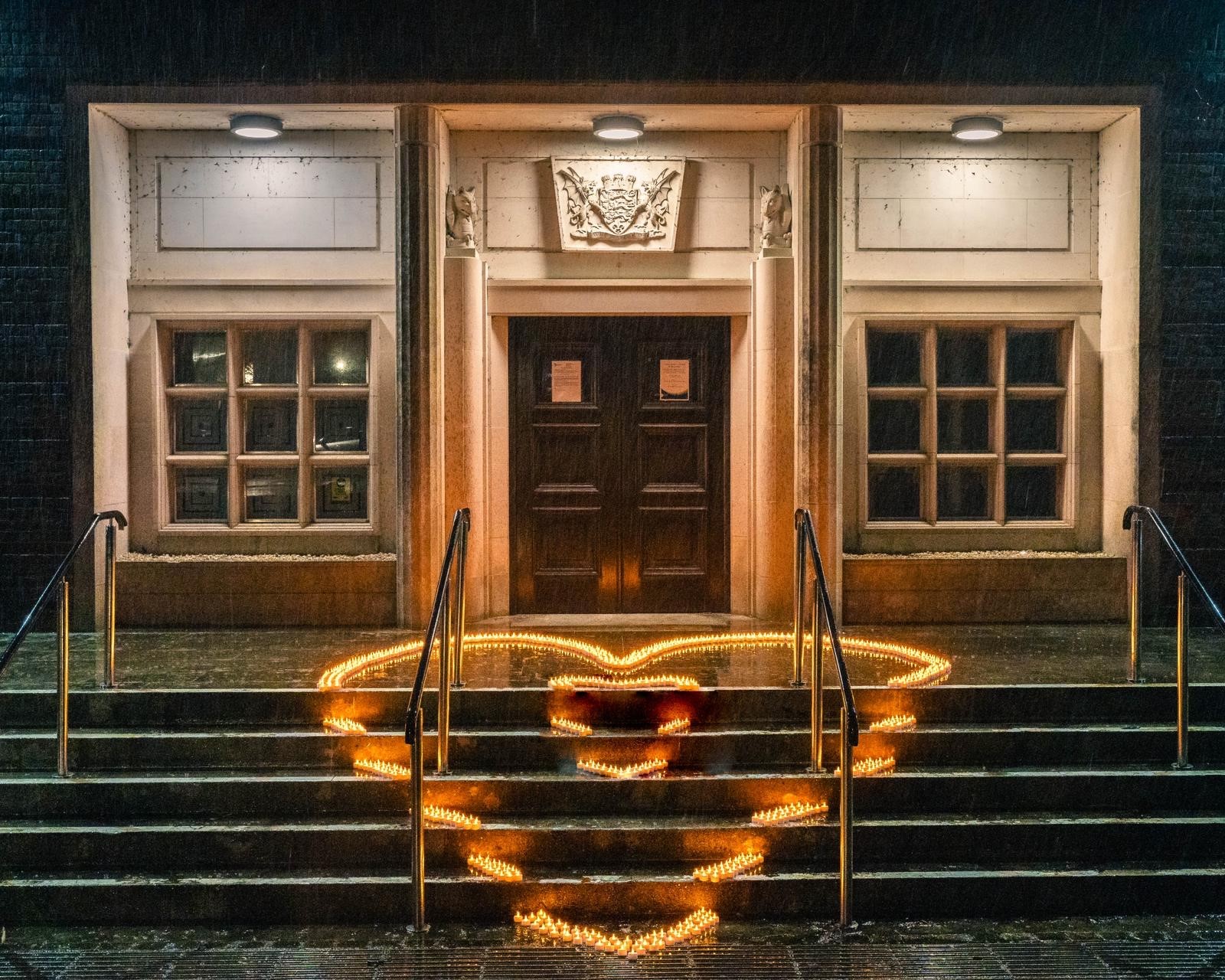 This week marks an extremely sad occasion in Dorset as the county passes the milestone of 1,000 Covid-19-related deaths.
1000 electric candles were lit and placed on the steps of County Hall in Dorchester and on Bournemouth Town Hall as a stark reminder of how the pandemic has caused heartache and devastation across the county. Each candle represented someone that families and friends had lost.
Public services across Dorset are asking residents to pause and reflect not only on the many lives lost but also to give thanks to colleagues battling every day to fight the virus.
Cllr Drew Mellor, Council Leader at BCP Council said: "Our deepest condolences go to all those who have lost loved ones during the pandemic as we reach this heart-breaking milestone. Each one of these people was an individual with a family and friends, living among our communities here is Bournemouth, Christchurch and Poole.
"We do not want to reach another tragic milestone. We must play our part in stopping the spread of this deadly virus. Remember that the single most important action you can take right now is to stay at home. Our local hospitals continue to do an incredible job of caring for those who most need it but it is only by doing our bit, as individuals, that we can collectively bring case rates down in our community and reduce the pressure on those who are working to save lives."
Dorset Council Leader Cllr Spencer Flower said: "This is a really tragic milestone. Our thoughts and prayers are with all those who have lost their lives to Covid-19 and with the families and friends who have lost loved ones during these unprecedented times.
"We all must be mindful at all times so we can save lives and reduce the pressure on everyone who makes sure life can carry on. Please take a moment to remember not only the lives sadly lost, but also to thank those working in the NHS helping patients suffering from the absolutely devastating effects of the virus and the many community volunteers who have worked so hard since the start of the pandemic.
"I know how hard this lockdown has been for so many people, but by following the guidelines can we hope to try and avoid more sad milestones like this one. The availability of vaccines and the speed of vaccinations is a great credit to the NHS and does offer real hope for the future. However, in the meantime we all need to stay at home where possible, think carefully and continue to focus on hands, face, space if you do need to go out."
Dr Forbes Watson, NHS Dorset CCG Chair and local Dorset GP, said: "We would like to express our sincere condolences to everyone who has lost a loved one at this hugely sad milestone."
Dorset Police Chief Constable James Vaughan said: "Our country has already surpassed the 100,000 death mark from coronavirus – a very grim and sad reality of the huge impact this pandemic has had on so many people. This tragedy is further reflected in the fact that Dorset's communities have now lost 1,000 loved ones to this terrible virus. My heartfelt thoughts go to everyone who has lost their lives and the families and loved ones they have left behind.
"Unfortunately, it is expected that more people will die from this terrible virus and we must do all we can right now to stay at home and stick to the rules to help stop the spread of COVID-19.
"I would like to thank the vast majority of people in Dorset for being so responsible – please keep it up and help protect each other."