Coming together to celebrate The Queen's Platinum Jubilee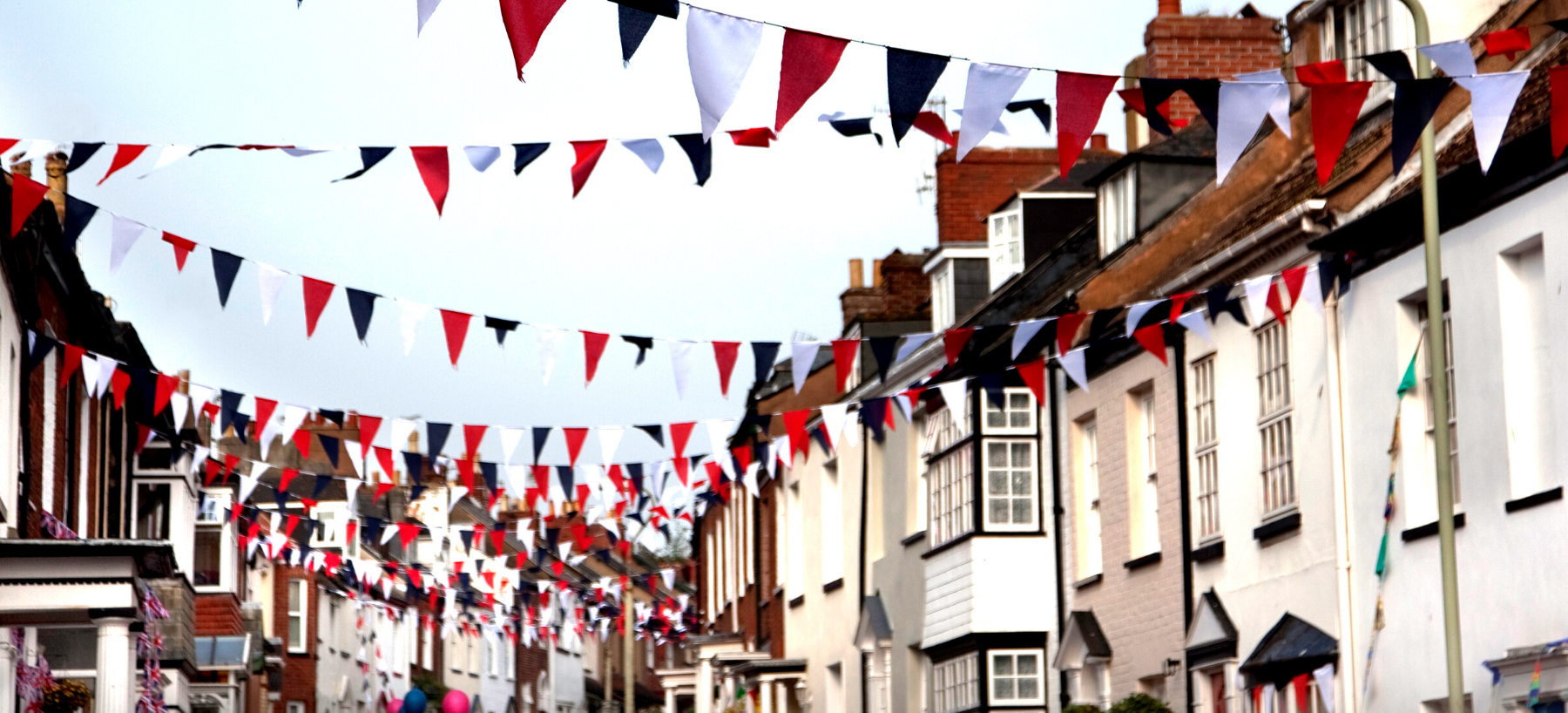 The Queen's Platinum Jubilee celebrates Her Majesty's life and reign, marking 70 years since she ascended to the throne. Queen Elizabeth II is the first British Monarch to reach this milestone.
There are lots of events happening across the UK and Commonwealth to commemorate this significant anniversary, from public events and community activities, to national celebrations.
The Jubilee weekend is a great opportunity to reconnect with your local community as well as friends and family, particularly after the challenges of the last two years. It's also a chance to take part in some fun activities that have benefits for your health and wellbeing too. Whether you are celebrating with a street party or at a public ceremony, take the opportunity to get the people around you involved, particularly if you know someone who is isolated.
The Big Jubilee Lunch
The Big Jubilee Lunch is a fun and easily accessible event that anyone can get involved in. It is all about coming together as a community and connecting with the people around you, whether it's having a cup of tea with a neighbour on the doorstep or having a big street party – people are encouraged to come together to celebrate friendship, food and fun. Connecting with others is one of the Five Ways to Wellbeing and spending time with people is good for your health and wellbeing as well as theirs. Talking to someone about your worries can help reduce stress and having social connections can increase your feelings of happiness, security, belonging and self-worth.
Using the Big Jubilee Lunch to connect and engage with others that spend a lot of time on their own, can help them feel less lonely and encourage them to talk more.
You could try some healthy Platinum Jubilee recipes from the BBC Good Food website, like curried chicken and mango salad or pea, asparagus and ham hock tart. Also, you could sign up for a free lunch pack full of ideas and inspiration to help get your started.
Wildflower planting events
The Parks Foundation are celebrating the Platinum Jubilee with nature activities in the Bournemouth, Christchurch, and Poole area. The wildflower planting events introduce more meadows into parks to attract more bees and butterflies. Getting involved in gardening and connecting with nature can benefit your health and wellbeing, which also helps you meet other people. You can join these wildflower planting events:
Haskells Rec – Monday 30th May, 2-4pm
Alexandra Park – Tuesday 31st May, 10am-12pm
Jumpers Common – Tuesday 31st May, 2-4pm
Muscliff Park – Wednesday 1st June, 10am-12pm
Pelhams Park – Wednesday 1st June, 2-4pm
Slades Farm – Saturday 4th June, 10am-12pm
If you want to get involved with the planting at these locations, visit The Parks Foundation website for more information and to book your place.
Plant a tree for the Jubilee
Another great way of connecting with nature, the Queen's Green Canopy is a unique, UK-wide tree planting initiative created to mark Her Majesty's Platinum Jubilee. Everyone and anyone can get involved, from individuals to community groups, schools, and businesses, we are all encouraged to plant a tree.
This initiative helps educate people about the benefits of planting trees, so they survive and flourish for many years. Take notice is one of the Five Ways to Wellbeing as taking time to refocus can help you combat stress. Spending time in nature to take notice of what's happening around you can strengthen and broaden your awareness.
Find out more on how you can get involved with the UK-wide tree planting initiative on The Queen's Green Canopy website.
Having your own Jubilee celebration
Holding your own party is a great way to connect with others while celebrating the occasion. There are a wide range of activities that you can include to make your Jubilee celebration enjoyable for all. From crafting, and baking, to gardening, and dancing, choosing activities that get people moving and connecting can help their health and wellbeing too.
If you want to do more than just have a party, you can plan a Jubilee celebration that raises money for charity. Giving is another of the Five Ways to Wellbeing – it provides you with a sense of purpose that can help combat stress, depression and anxiety. You can choose a fun-filled event, like a bake sale, a fancy-dress party, or a football competition, and get fundraising. The Prince's Trust are encouraging people to fundraise for their charity over The Platinum Jubilee Bank Holiday, visit their website to find out more.
There are lots of events happening locally over the bank holiday, including beacon lighting in Bournemouth, a picnic in the park in Lytchett Matravers and a fun day in Blandford. You can use the map of events on the Platinum Jubilee website to find out what's going on in your area.